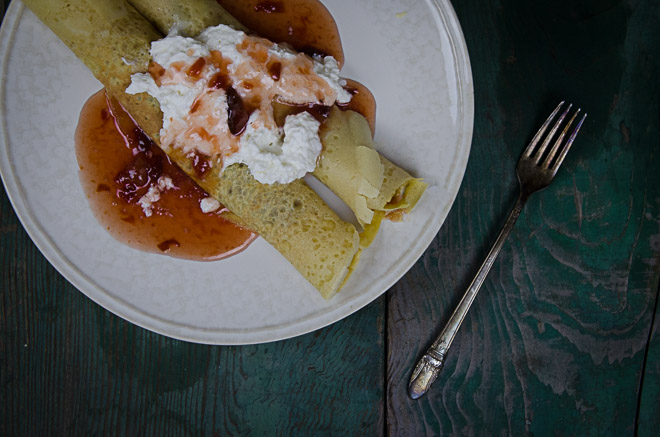 For a long time, I struggled to find a decent, whole-grain crepe recipe.   Usually, whole grain flour would cause the crepe to fall apart or to have a mealy texture unbecoming of a good crepe.   Using sprouted spelt flour as in this recipe - or even sprouted soft white wheat - eliminates those drawbacks and provides a boost of fiber and micronutrients to the dish.   We serve these with fruit we preserved over the summer and a cultured dairy food like kefir, yogurt or viili.   As a   tasty alternative to sweet crepes, serve them with lox, steamed asparagus and hollandaise sauce.  Sprouted grain is rich in nutrients and enjoys an increased level of vitamins than its non-sprouted counterparts.
sprouted grain crepes
Print
Save Recipe
Saved!
Ingredients
2

eggs

1 ¼

Cup

whole milk

1

Cup

Organic Sprouted Spelt our Sprouted White Wheat Flour

Pinch

finely ground real salt

butter
Instructions
Mix all ingredients except butter or coconut oil together until thoroughly blended. Eliminate all lumps of flour.

Set the batter aside for 1 to 2 hours. This gives you the opportunity to prep other dishes you might serve.

Heat a tablespoon or so of butter or coconut oil in a skillet or crepe pan over medium heat until melted.

Pour 2 to 3 tablespoons of batter into the heated pan and swirl the batter around the pan quickly so as to distribute the batter thinly.

Cook the crepe for 30 to 45 seconds or until small bubbles begin to appear in the batter, flip the crepe and cook the other side for 30 seconds.

Remove from the pan to a warm plate.

Continue this process until all your batter has been exhausted and adding butter or coconut oil to the pan as needed. Don't worry if you lose a few of those first crepes while you perfect your technique.