Bittersweet with a punch of almonds, this dark chocolate granola is a near-perfect start to a busy morning. A little dark maple syrup gives the granola a subtle sweetness, while cacao and reishi mushroom lend not only a boost of antioxidants but also a deep chocolatey flavor with a slightly earthy note - making it a perfect grown-up version of your favorite chocolate kids' cereal.
Jump to Recipe | What is it? | What's in it? | Tips | Variations | Common Questions
What is it?
Granola is a breakfast food that was first developed during the 19th century's booming health and wellness movement. Modern versions typically combine oats with oil, a sweetener, and dried fruit or nuts.
This version includes medicinal herbs, spices, and a gorgeous dark chocolate base formed by cacao and cocoa butter, giving it a deep bittersweet edge coupled with subtle, delicate notes of cinnamon and other botanicals. This combination tastes delicious and is also deeply nourishing.
What's in it?
In this recipe, luxuriant cocoa butter with its chocolatey aroma replaces oil, and you'll use a mix of both sprouted oats and tigernuts (a fiber-rich tuber) in place of rolled oats alone. Maple syrup gives the granola a slight sweetness, while both cinnamon and cloves provide a burst of spice against a rich foundation of chocolate.
In addition, this recipe gets a botanical boost from Rritual's Reishi Relax.* It's an adaptogen mix containing ashwagandha, reishi, and other medicinal mushrooms such as cordyceps, turkey tail, and maitake. This blend of herbs may support the body's stress response system, encouraging relaxation, better sleep, and improved mood.*
Sprouted oats are easier to digest for many people than regular oats. In addition, they contain various minerals in addition to complex carbohydrates and fiber.
Tigernuts are tuberous roots rich in prebiotics (the food that fuels beneficial bacteria), such as resistant starch and fiber. They also contain vitamins C and B6 and various minerals such as magnesium, zinc, and potassium.
Almonds provide a light sweetness and are a good source of vitamin E.
Cacao is significantly richer in various antioxidants and phenolic compounds than most foods (1). These botanical compounds give it a rich flavor and dark color. It is also traditionally used to restore energy (2).
Cocoa butter gives the granola a rich chocolatey flavor and aroma. It contains vitamin E.
Maple syrup provides a hint of sweetness that brings balance to bitter cacao.
Reishi mushroom is an adaptogen that has a long history of use in traditional Chinese medicine. Its versatile uses include supporting the immune system and promoting relaxation (3). In addition, its earthy flavor is a natural fit for chocolate.
Ashwagandha is an adaptogenic herb with sweet, calming energy. Its traditional uses include encouraging sleep and relaxation, and it provides excellent stress support (4).
Cinnamon and Cloves bring a warming, spicy quality to the granola, balancing chocolate's bitterness and maple syrup's sweetness. They're also rich in antioxidants and are anti-inflammatory (5, 6).
---
Where to find Rritual's Adaptogen Elixirs
Rritual's Reishi Relax* is a blend of adaptogenic herbs that gives this chocolate granola a gentle boost of botanical goodness. It contains both reishi and ashwagandha, which provide stress support and encourage relaxation.* And this punch of medicinal herbs is a perfect way to start your morning. They're also organic, using mushrooms that are grown and harvested in the US.

You can find Rritual's elixirs at their website, on Amazon, and even in select RiteAid and CVS stores. When buying on Rritual's website, use the discount code for NourishedKitchen15 for 15% off your order.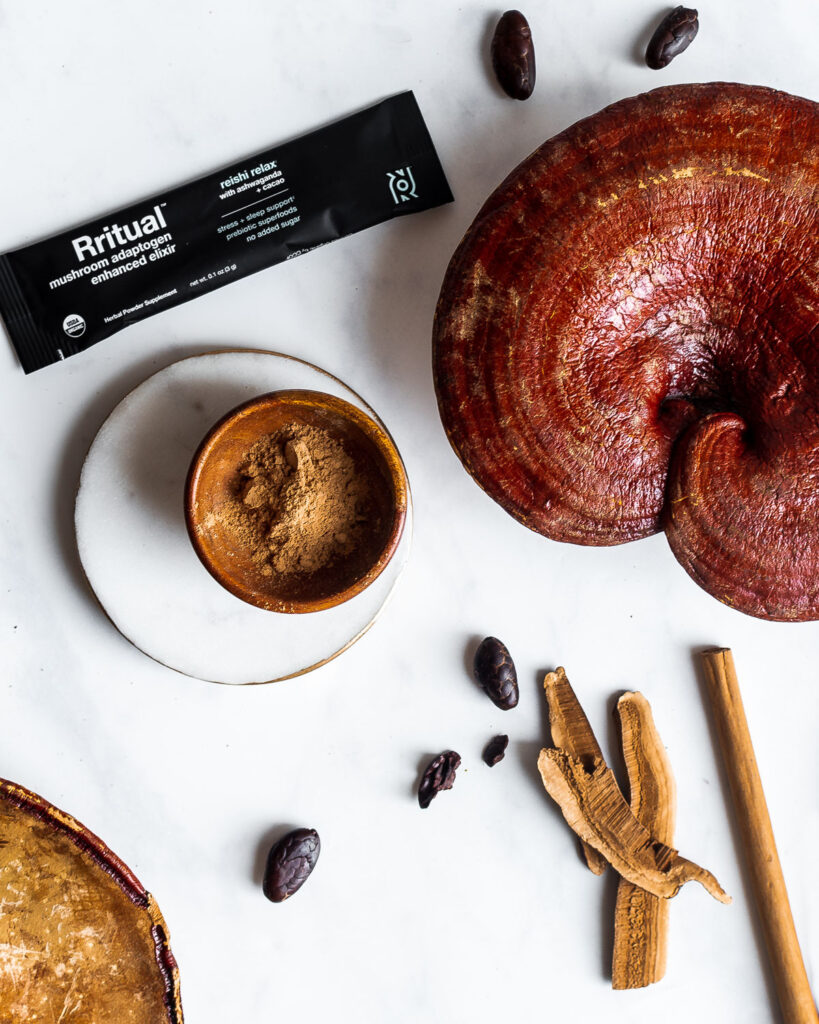 ---
Tips for making granola
Granola is super easy to make. You can even whip up a big batch on the weekend and keep it on hand for up to a month for easy breakfasts or snacks. Before warming the cocoa butter with maple syrup, cacao powder, and herbs, you'll start first by mixing the dry ingredients (oats, tigernuts, almonds, and cacao nibs). While it's a cinch to make, there are a few things you'll want to keep in mind.
The cocoa butter melts quickly (and hardens rapidly without the stove's heat), so keep an eye on your saucepan to prevent overcooking. In addition, fold the liquid ingredients into the dry ingredients quickly.
Line your sheet pan with parchment paper, as it makes clean up a breeze.
Stir the granola once or twice while it bakes to promote even cooking.
Let it cool completely, then store it in a tightly sealed container in a dark cupboard for up to 1 month.
Make it your own by adding dried fruit or different nuts.
---
---
Variations
For a grain-free version, skip the sprouted oats and use 1 ½ cups flaked tigernuts.
If you can't find tigernuts, use 1 ½ cups sprouted oats.
Use cocoa powder in place of cacao powder for a deeper chocolate flavor with less acidity.
Use homemade noyaux, almond extract, or vanilla extract in place of chocolate extract.
Add dried or freeze-dried fruit such as dried cherries, raspberries, or strawberries.
Try a coconut-chocolate version by substituting coconut oil for cocoa butter, coconut extract for chocolate extract, and using dried, unsweetened coconut in place of sliced almonds. Omit the cinnamon and cloves.
Common questions
How long does the granola last?
Store the finished granola in a tightly sealed container at room temperature for up to 1 month.
Can I freeze it?
This granola doesn't freeze well, so store it at room temperature.
What can I use in place of cocoa butter?
Use coconut oil in place of cocoa butter.
What can I use in place of sprouted oats?
Use old-fashioned rolled oats or flaked tigernuts in place of sprouted rolled oats.

Is this chocolate granola recipe gluten-free?
Yes. Make sure to use certified gluten-free oats when making granola.

---
References
Meng, Cheng Chia et al. "Phenolic and theobromine contents of commercial dark, milk and white chocolates on the Malaysian market." Molecules (Basel, Switzerland) vol. 14,1 200-9. 5 Jan. 2009
Lippi, Donatella. "Chocolate in history: food, medicine, medi-food." Nutrients vol. 5,5 1573-84. 14 May
Winston, David and Maimes, Steven. (2007). Adaptogens: Herbs for Strength, Stamina, and Stress Release. Rochester, VT: Healing Arts Press.
Salve, Jaysing et al. "Adaptogenic and Anxiolytic Effects of Ashwagandha Root Extract in Healthy Adults: A Double-blind, Randomized, Placebo-controlled Clinical Study." Cureus vol. 11,12 e6466. 25 Dec. 2019, doi:10.7759/cureus.6466
Vallianou, Natalia et al. "Effect of cinnamon (Cinnamomum Zeylanicum) supplementation on serum C-reactive protein concentrations: A meta-analysis and systematic review." Complementary therapies in medicine vol. 42 (2019): 271-278.
Batiha, Gaber El-Saber et al. "Syzygium aromaticum L. (Myrtaceae): Traditional Uses, Bioactive Chemical Constituents, Pharmacological and Toxicological Activities." Biomolecules vol. 10,2 202. 30 Jan. 2020
* These statements have not been evaluated by the Food and Drug Administration. This product is not intended to diagnose, treat, cure, or prevent any disease.
---
Other herbal recipes you might like