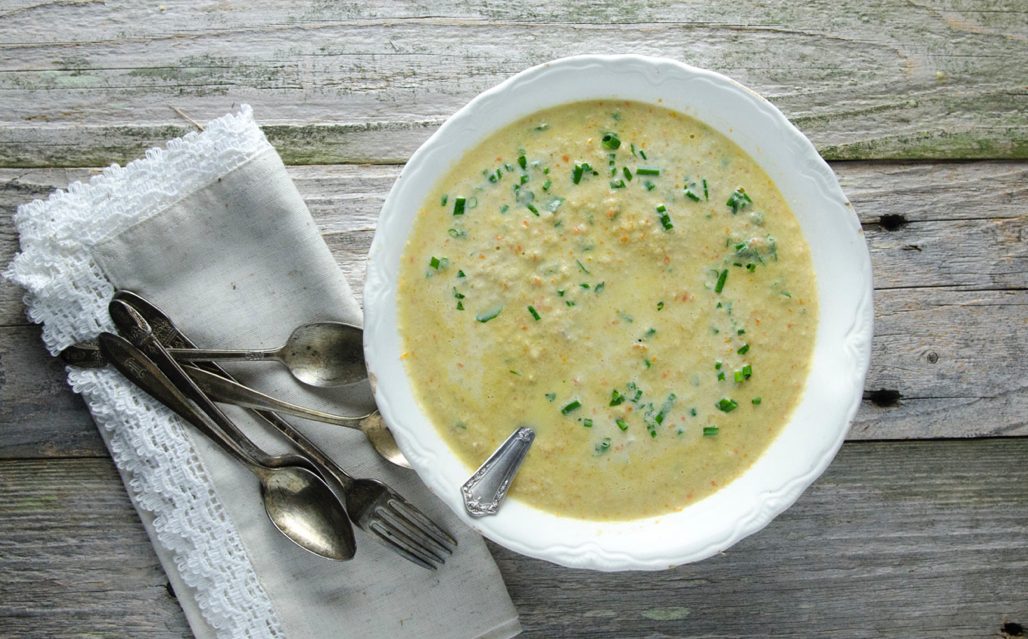 Homemade Cream of Chicken Soup is nothing like the pale, gloopy, gravy-like mess that comes out of a can; rather, it's an utterly delightful, soothing and rich-flavored soup dotted with fresh vegetables and herbs and very finely minced chicken.
Dishes that Make Their Own Broth
While we can think of bone broths and stocks as stand-alone dishes and ingredients we make, either to enjoy them on their own or to add them to other dishes, but there's a whole assortment of traditional dishes in which meats, bones and vegetables are simmered together to make their own broth.  These dishes tend to be humble foods, simple and lovely.  They're easy to make, too.
Among my favorites I've included in Broth and Stock are Oxtail Stew or my nana's long-simmered Pinto Beans with Ham Hock. Homemade Cream of Chicken Soup, dotted with aromatic vegetables and fresh herbs, is one of those recipes.  It calls for a whole stewing hen, with meat, skin and bone, which allows you to reap the benefits of broth, and couples them with other nutrient-dense additions like egg yolks which thicken the soup, a more traditional method than the use of flour.
Homemade Cream of Chicken Soup
Growing up, all I knew of creamed soups is that they came from a red- and-white tin that, when opened, would yield a bouncy gelatinous goop that served as the glue that bound the casseroles we would take to church events. This soup is not one of those; rather, it's a lovely, comforting blend of aromatic vegetables, butter, egg yolks, cream, fresh herbs and chicken.
This soup makes little waste and, in a home where every penny counts, it's rather nice to eke out every bit of flavor and nourishment from what you have available to you. So, use up the celery leaves and the carrot tops and you'll find they give the soup a beautiful aromatic flavor that blends well with the soft and soothing flavor of chicken, cream, parsley and chives.
Cream of Chicken Soup
This homemade cream of chicken soup is gentle and soothing in its flavor, deeply comforting and satisfying. It doesn't freeze well, so plan to use it up within a few days of making it. You can find this recipe, and many others, in
Broth and Stock
(Ten Speed Press) available through
Amazon
,
Barnes and Noble
and your local book seller.
Print
Save Recipe
Saved!
Ingredients
6

celery stalks

including leaves

3

carrots

including tops

1

yellow onion

1

whole stewing hen

2

leeks

cleaned

2

tablespoons

butter

¼

teaspoon

freshly grated nutmeg

Order organic nutmeg here.

6

egg yolks

beaten

2

cups

heavy cream

2

tablespoons

chopped flat-leaf parsley

2

tablespoons

chopped fresh chives
Instructions
Pluck the leaves from the celery and place them in a stockpot. Chop off the carrot tops and peel the carrots, dropping both the peelings and tops into the pot. Chop off the root and top ends of the onion and peel it, tucking onion trimmings into the pot.

Mince the celery, carrots and onions very finely, and then place them in a mixing bowl.

Rinse the chicken thoroughly and pit it dry before adding it to the stockpot, covering it completely with water by about two inches.

Pierce the leeks with the cloves so that they remain stuck inside the tender stalks and place them in the stockpot alongside the stewing chicken.

Slowly simmer until the chicken is completely cooked and tender to the bone, about two hours. Carefully remove the chicken from the pot and place it on a platter to allow it to cool until you can pick the meat off the bones comfortably.

Strain the remaining broth through a fine-mesh sieve into a pitcher or jar, discarding the solids. Wipe the pot clean with a kitchen towel.

Melt the butter in a cast iron skillet until it foams, toss in the minced vegetables and fry until they become fragrant and tender, about 5 minutes. Transfer to the cleaned stockpot.

Once the chicken has cooled, pick its meat off the bones. Mince the meat very finely . Stir the chicken into the vegetables and pour the strained broth back into the stock pot. Stir in the finely grated nutmeg, and then bring it all to a bare simmer over medium heat.

Temper the beaten eggs by stirring a spoonful of broth into them, and then pouring the mixture of eggs and broth into the simmering soup. Gently stir in the heavy cream, parsley and chives. Season with salt and pepper.

Ladle into soup bowls and serve warm.