With its intense heat and fragrant notes of garlic, this fermented pepper mash recipe is a favorite in our house. And it only takes three ingredients and a little bit of know-how.
Jump to Recipe | Key Ingredients | Tips | Variations | Questions
Ripe, red hot peppers come into season in late summer and early fall. They're perfect for making this intensely hot, garlicky fermented pepper mash.
It's a favorite in our house and something I've made every year for nearly a decade - sorting through piles of fiery cherry bells, floral scotch bonnets, and everything in between. The best part? The mash will last for months in the fridge.
Why You'll Love This Recipe
Fermented chili mash gives a flavor boost to all sorts of dishes. We love it in chili beans, stir-fries, homemade soups, and sipping broths.
It's an excellent substitute for store-bought sauces, such as sambal oelek and harissa.
As a fermented food, it's loaded with beneficial bacteria that support gut health and immune system function.
This recipe is fun to make (and super simple) and is a good option for newcomers to fermentation.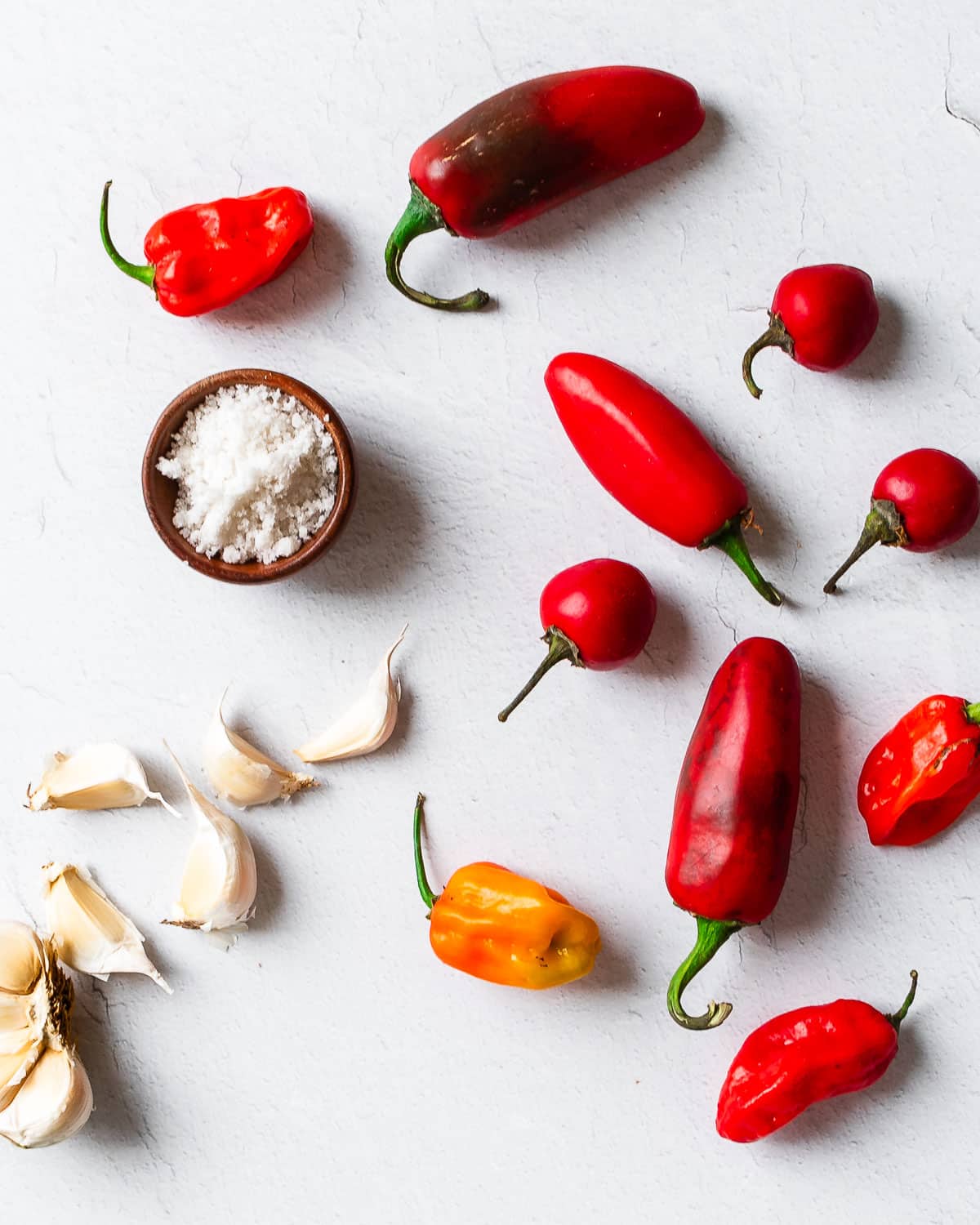 ​Ingredient Notes
The ingredients for most fermented vegetable recipes are straightforward and simple. For example, a good sauerkraut recipe needs only cabbage and salt. This pepper mash only needs three ingredients: hot peppers, garlic, and salt. 
Hot chili peppers are the heart of the recipe. I recommend using ripe red or orange peppers. Red habanero, jalapenos, and cherry bell peppers are my favorites. Ghost peppers are also an excellent choice, but you may want to combine them with milder chiles. Red peppers have better flavor than green peppers, which can often taste bitter once you ferment them.
Garlic brings balance and depth to the pepper mash. I use it in many hot and spicy ferments, such as homemade kimchi and my fermented salsa recipe.
Salt adds flavor to the mash, and it also helps support proper fermentation. It helps create the optimal environment for fermentation by keeping bad bacteria at bay while supporting the growth of lactobacillus bacteria (the good guys!). I favor minimally processed sea salt in my ferments.
Helpful Fermentation Equipment
While you can make awesome fermented foods with a lidded mason jar, it's helpful to have a few key pieces of equipment.
A glass jar with a fermentation seal or airlock is optimal since it allows the carbon dioxide that builds up during fermentation to escape while preventing the free exchange of air.
For this reason, it's helpful in preventing mold growth and ensuring a healthy, safe ferment. If you make fermented foods often, purchasing dedicated fermentation kits is a smart choice.
Tips for Making Pepper Mash
Use high-quality fresh peppers. They should be free from soft spots or signs of spoilage, which will only ruin your pepper mash.
The right equipment matters. A jar equipped with an airlock or fermentation seal is very helpful when making pepper mash and other fermented foods. It helps prevent spoilage by mold.
If you don't have an airlock or fermentation seal, use a mason jar or a jar equipped with a rubber seal and clamp. Seal the jar tightly, then open the jar briefly every day to allow the excess gases to escape.
Shake the jar every day. When making fermented vegetables, you'll want them to sit below the salt brine to prevent mold. Weights can be helpful for this; however, it's difficult to weigh down pepper mash. So, shaking the jar daily helps prevent the growth of mold.
Be careful when handling the hot chilis. Their vapor can irritate your lungs and eyes, so be careful when opening the food processor. Additionally, wearing gloves can prevent skin irritation.
Removing the pepper seeds helps tone down the heat and may prevent bitterness, but it can also be a bit tedious in practice.
Pay attention to the kind of pepper you like and the heat level you tolerate. Choose milder peppers, such as jalapenos, if your tolerance is lower, and hotter peppers if you're a heat lover. The Scoville scale is a good resource that can help you determine what you might enjoy.
If you don't have a food processor, you can add the ingredients to a high-speed blender or process them through a food mill.
Temperature is important. The optimal temperature for fermentation is cool room temperature. If your kitchen is warmer, it will ferment faster, while cold temperatures slow down fermentation.
---
How to Use It
Many people use fermented pepper as a start for homemade hot sauce. However, I prefer to use whole peppers in our fermented hot sauce recipe.
Instead, I add the mash to stir-fries, stir it into soups, and serve it at the table as a sauce.
When we're feeling under the weather, I like to warm homemade bone broth in a saucepan with a little fresh garlic and then stir in the fermented chili mash right before serving it. It makes a delicious sipping broth and helps open the sinuses when you're feeling stuffed up. 
It's also delicious as an addition to vinaigrettes and salad dressings. Consider whisking a little pepper mash together with extra virgin olive oil, sherry vinegar (or apple cider vinegar), and a drizzle of honey for a delicious marinade or dressing.
---
---
Love this recipe? There's more.
Join Nourished Kitchen's Cooking Club for ad-free browsing, nourishing monthly meal plans, and access to all our premium downloads.
---
Variations + Substitutions
To speed up the fermentation process, you can add a starter to the pepper mash. A few tablespoons of brine from other fermented vegetables, such as sour pickles or fermented carrots, will introduce the right bacteria. You might find your mash is done faster.
Consider adding spices, fruits, and herbs once you've mastered the original recipe. I love mixing a little pineapple into our mash or adding a little fresh ginger or turmeric for variety. You can add them at the same time that you process all the other ingredients.
Lime and orange are delicious additions to this mash. You can add both the juice and the finely grated peel, which gives pepper mash a lovely citrus note.
---
Love this recipe? Try these fiery ferments next.
---
Recipe Questions
How long does it keep?
Store the finished product in a tightly sealed container in the fridge for up to 6 months.
Can I freeze it?
Yes. You can freeze fermented pepper mash. Keep in mind that freezing may damage some of the lactic acid bacteria (the good bacteria), so the mash may lose some of its probiotic power if you freeze it.
To freeze pepper mash, transfer it to a freezer-safe container and then transfer it to the freezer for up to 6 months.
How do I know it's safe to eat?
​Properly fermented foods are safe to eat; however, they can be a bit intimidating for newcomers. It should smell spicy and pleasantly sour, so if it smells putrid, give the mash a miss.
Additionally, its surface should be free from signs of mold, such as fuzzy spots. If you're still concerned, consider testing the mash's acidity with a PH strip. It should have a PH of 4.5 or less.
What kind of salt should I use?
Many different types of salt are suitable for fermentation. They include minimally processed sea salt, mined salt (such as Himalayan or Redmond Real Salt), and pickling salt. I prefer sea salt as mined salt can leave sediment.
The key is to use salt that is free from additives, such as anti-caking agents or potassium iodate.
Can I use less salt?
For proper and safe fermentation, you should use salt. In general, fermented foods benefit from about 2-3.5% salt. For peppers, a 3 to 3.5% brine seems to be the sweet spot for both flavor and effective, safe fermentation.
Why does it taste bitter?
Occasionally, fermented peppers will taste bitter. Using ripe red peppers helps prevent bitterness, and so does removing the seeds. Stirring a little honey or other sweetener into the mash when it is finished can help counteract any bitterness. So does adding additional acid, whether from vinegar, lime, or lemon juice.
What's this white film on the surface of my pepper mash?
Sometimes, a thin white film develops during fermentation. It is Kahm yeast and is harmless. Your pepper mash is still safe to eat, but it may taste a little bitter. You can spoon the film off the top of the ferment, but it will continue to grow until you transfer the mash to the fridge.
To prevent Kahm yeast from developing, seal your jar and shake it daily to agitate the mash. This same technique also helps prevent mold growth.