One of my favorite dishes to serve in the wintertime is Cranberry Bean Soup - nourishing and fragrant with fresh herbs. I place the steaming pot on the table and ladle the soup into bowls before breaking open a loaf of no-knead sourdough to serve with it.
There's nothing particularly fancy or complicated about the soup. It's a straightforward pot of beans, heritage grain, and broth. Like most bean dishes, it's mercifully light on the budget. But beyond filling bellies, this soup, brimming with creamy beans, fragrant herbs, and winter vegetables, offers deep nourishment.
Jump to Recipe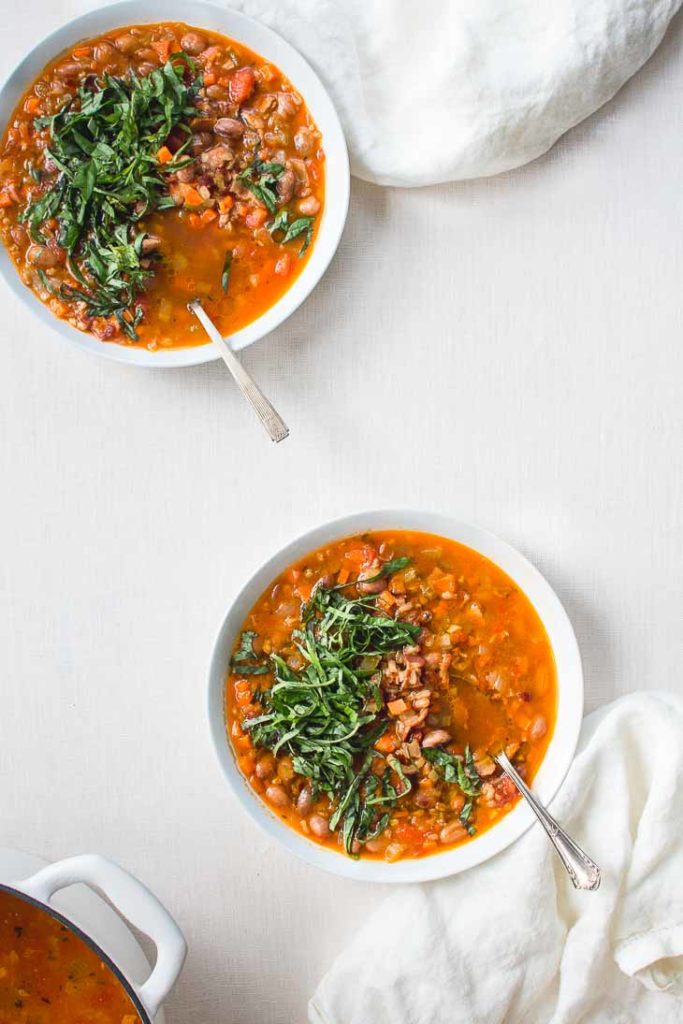 What Are Cranberry Beans and Farro
Cranberry beans are plump, tan-colored beans riddled by deep maroon streaks. These heirloom beans are popular in Italian cooking, where they're also known as Borlotti or Saluggia beans.
They have a creamy texture and delicate flavor that's both earthy and nutty. Like many other pulses, Cranberry beans blend beautifully with rich flavors like cured pork, olive oil and herbs. Flavors that are both vibrant and rich tend to lighten and lift up the earthy flavor of beans.
Farro, like cranberry beans, is a food steeped in deep heritage. It's an Italian word that identifies three varieties of heritage wheat: einkorn, spelt, and emmer. These grains are further clarified by terms like farro piccolo for einkorn, farro grande for spelt, and farro media for emmer.
Most farro you purchase in the U.S. is pearled or semi-pearled, which means part of its bran layer is gently rubbed away. This traditional practice makes grains easier to store and quicker to cook, and it also makes soaking them in advance unnecessary.
What Makes Cranberry Bean and Farro Soup Good for You
Pulses, like these Cranberry beans tend to feature prominently in the diets of some of the longest lived peoples on earth, and with good reason, too. They're inexpensive, filling, and deeply nourishing. They're particularly rich in fiber that helps to nourish a healthy gut microbiome. And when you prepare them properly, with a good soak overnight or by sprouting, they're also a good source of various minerals like iron, magnesium, phosphorus and potassium as well as vitamins like thiamin, B6 and folate.
To make this Cranberry Bean and Farro Soup, you'll also add plenty of nourishing, protein-rich bone broth which complements the amino acids in the beans for a fuller and more complete profile. Tomatoes, vegetables, and fresh herbs contribute plenty of micronutrients, like antioxidants, dietary fiber, and minerals that help to further amplify the goodness in this soup.
Cranberry Bean Soup Recipe
Cranberry beans and farro give body to this wholesome soup, while fresh herbs and a hint of bacon give it a deep and resonant flavor.  
Print
Save Recipe
Saved!
Ingredients
3

sprigs

sage

2

sprigs

chopped fresh rosemary

5

sprigs

thyme

3

tablespoons

extra virgin olive oil

4

oz

bacon

(chopped)

1

yellow onion

(finely chopped)

3

carrots

(finely chopped)

4

celery ribs

(finely chopped)

2

cloves

garlic

(finely chopped)

6

cups

chicken broth

1

(18.3 oz) jar

diced tomatoes

2

cups

cranberry beans

(cooked and drained)

1

bunch basil

thinly sliced
Instructions
Tie the sage, thyme and rosemary together with cooking twine, and then set it aside.

Warm the olive oil in a Dutch oven over medium heat.  Stir in the bacon and allow it to cook in the hot oil until it renders its fat and becomes crispy, about 5 minutes. 

Add the onions, carrots, celery, and garlic to the hot fat, stirring them occasionally until the vegetables release their fragrance and the onions turn translucent - about 10 minutes.  Pour in the chicken bone broth, and then stir in the farro, cranberry beans, and tomatoes.  Drop in the bundle of herbs and simmer, covered, over medium-low heat until the farro blooms and is tender.

Once the farro softens and becomes tender, turn off the heat, and then remove the bundle of herbs. Taste the soup's broth, and then add salt as you like it.  Serve hot with finely sliced basil.
---
Other hearty soup recipes to try