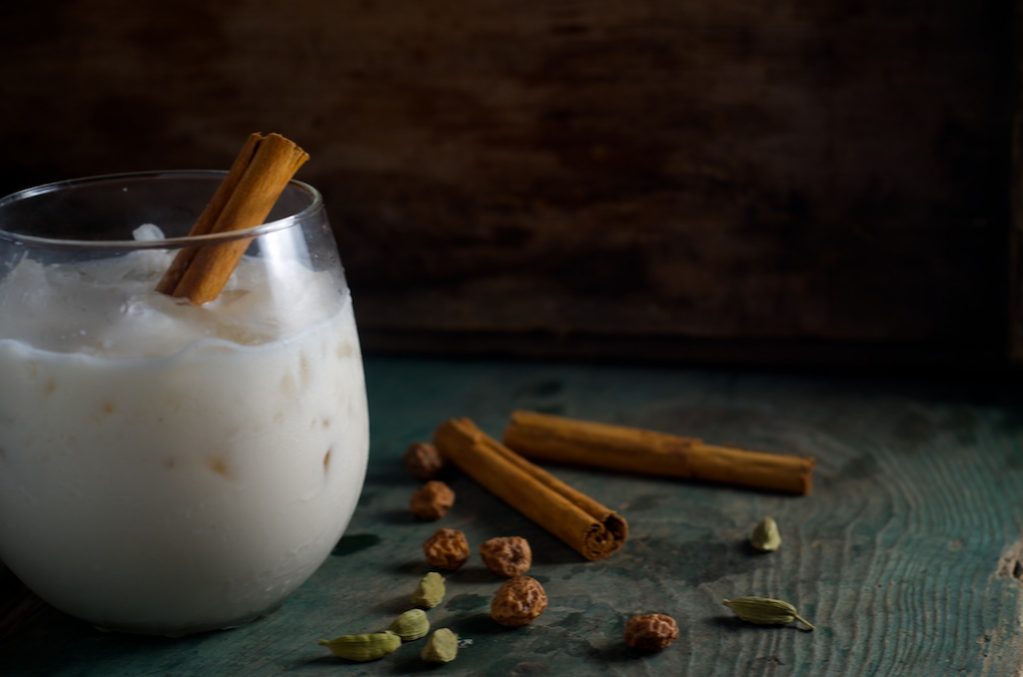 Small, wrinkled amber colored tubers that grow just beneath the soil's surface, tiger nuts number among the first foods cultivate by early humans, and they remain a traditional food and source of nourishment in West Africa and Spain, today.  
I soaked and nibbled a few, and loved their soft sweetness and their nut-like flavor which reminded me of freshly roasted chestnuts. And as ideas circled in my head about just what I'd do with them (a puree, perhaps? an addition to no-knead sourdough bread? chopped and added to ice cream?), I happened to meet a gentlemen who described his love of tigernuts in such detail, I couldn't help but fall in love with them myself.
Tigernuts are a Traditional Food of Nigeria
I was traveling, and my bags were delayed, and my driver and I began to talk. He explained that he had immigrated from Nigeria, was ready to take his citizenship test so that he could bring over his wife and four boys. And though he was young, he and his story reminded me of my grandfather who emigrated from Germany to the US.
As we talked, I asked him about the foods of his youth, and those made for him by his mother and grandmother. It's my favorite conversation, and my favorite source of inspiration in my own cooking and writing. He described hearty, spiced stews of pumpkin, greens and mutton, and skewered meat slathered in chile peppers and grilled. And, finally, he described Kunnu Aya, a drink I later learned to be tigernut milk also referred to as horchata de chufa in Spain.
And while tigernuts still captivate the hearts of people as a traditional food of Africa and Spain (where it was brought by the Moors), archaeological evidence indicates that the tigernut was a common food source during the paleolithic, or pre-agrarian era in Africa.
Tigernut Milk (Kunnu Aya)
Tigernuts are often used in various ways in traditional Nigerian cuisine, but the beverage kunnu aya, or tigernut milk is particularly well-loved. It is also blessedly easy to make, requiring nothing more than tigernuts and water, though the addition of spices and a natural sweetener like jaggery or honey elevates the humble tigernut milk into something positively ethereal.
Tigernut milk (called Kunnu Aya in Nigeria and Horchata de Chufa in Spain) is naturally sweet, creamy and offers a luxurious, rich and nutty flavor. Unlike milks made from almonds or other nuts which are typically very high in inflammatory omega-6 fatty acids, tigernut milk is, instead, rich in monounsaturated fat, as well as minerals and vitamins C and E. For this reason, as far as non-dairy milks go, I tend to prefer tigernut milk or coconut milk.
Tigernut milk or kunnu aya can be made simply by soaking the tubers in water, blending and straining; however, the addition of spices like cardamom and cinnamon as well as sweetener is lovely. In Nigeria, kunnu aya is not flavored from time to time with sweet spices, but also with alligator pepper.
Why Tigernuts Are Good for You
Tigernuts are a rich source of nourishment, and remain a significant source of food for both the poor and the wealthy throughout northwest Africa. They're rich in minerals like calcium, iron, magnesium, potassium and phosphorus, as well as vitamins C and E. They're a good source of oleic acid (a monounsaturated fat also found in olive oil, avocado and pork fat), and which is associated with increased HDL (good) cholesterol levels.
Tigernuts, also a member of the nutsedge family, are also traditionally used in folk medicine along with ginger and mints to treat upset stomachs, digestive issues and irritable bowels (read about it here).
Tigernuts are also a good source of prebiotics (that is food for the good beneficial bacteria in your gut!) like inulin and resistant starch.
FYI Tigernuts are Not Nuts
And, remember, tigernuts are not nuts. They are tiny tubers with a nut-like flavor and nut-like texture, so for those people who must avoid nuts, tigernut makes an excellent alternative in baking and cooking.
Kunnu Aya (Nigerian-style Tigernut Milk)
A traditional food of both Spain and Nigeria, tigernuts are rich in minerals including calcium, iron, magnesium, potassium and phosphorus. They're also rich in vitamins E and C. Tigernut milk (or Kunnu Aya) is a traditional Nigerian method of preparing tigernuts, which highlights their natural soft, sweet creamy notes and a flavor reminiscent of roasted chestnuts.
Print
Ingredients
8

ounces

tigernuts

4

cups

water

¼

cup

jaggery

optional
Instructions
Pour the tigernuts and cinnamon stick into a medium-sized mixing bowl, and cover them with warm water. Allow them to soak in the water at least 12 and up to 24 hours, or until softened.

Transfer the tigernuts, soaking water, cinnamon stick, cardamom pods and jaggery to a high-powered blender, and until they form a smooth paste, adding water as necessary to allow even blending.

Allow the paste to sit in the fridge for an hour to rest, and then spoon it into a nut milk bag, press it through, and serve over ice.