There's little I like more than settling in for a ginormous bowl of pho, the classic Vietnamese soup of long-simmered broth, rice noodles, thinly sliced meat, and fresh herbs. It's hydrating. It's nourishing. It tastes delicious. This version speeds up the stock making by using a homemade stock and infusing it with spices and aromatic vegetable as you prepare the other ingredients.
Jump to Recipe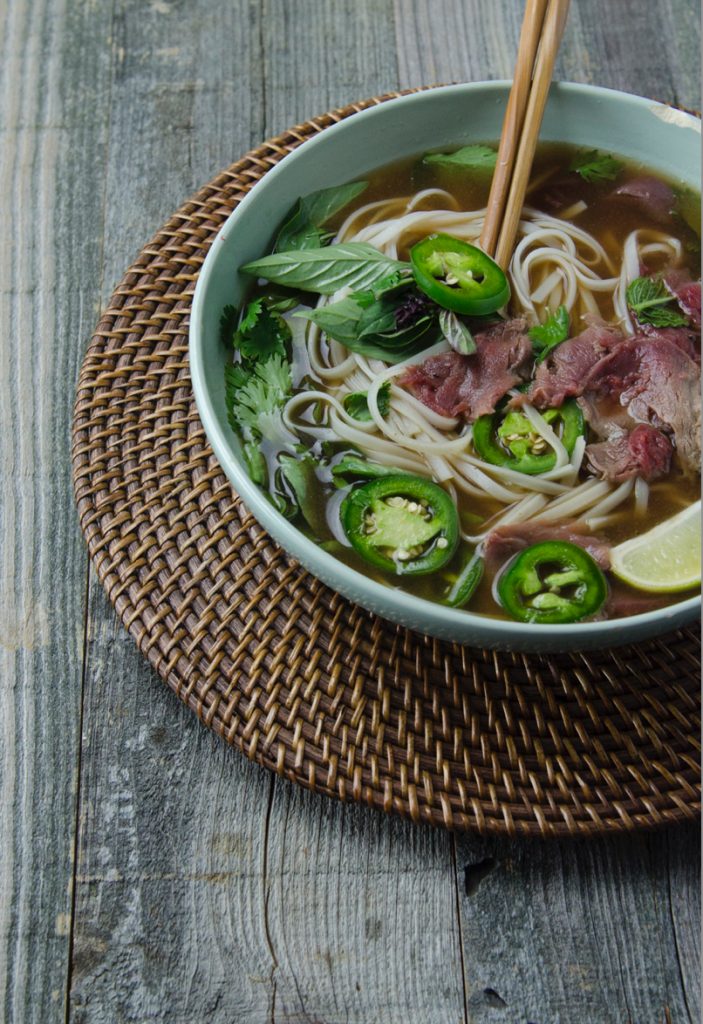 Quick Pho
Pho is blessedly easy to make at home, as long you happen to have some beef stock on hand, and it comes together for a nice and quick weeknight meal. While the sweet spices like coriander, fennel, cinnamon and cloves give the beef stock its characteristic flavor as it warms up on your stove, you can prepare pho's classic accompaniments of hot peppers, fresh herbs, bean sprouts and lime. In the end, it's a super-easy dinner that comes together in about a half hour.
Total Time
30

minutes
mins
Print
Save Recipe
Saved!
Click to Remove Ads
Ingredients
1 ½

pounds

top sirloin

1

yellow onion

(halved)

1

knob

Fresh Ginger

1

teaspoon

coriander seed

½

teaspoon

fennel

8

cups

bone broth

¼

cup

fish sauce

8

ounces

dried Vietnamese-style flat rice noodles

4

green onions

(cut on the diagonal into 1-inch-wide slices)

1

bunch cilantro

1

bunch Thai basil

1

bunch mint

2

limes

(quartered)

2

jalapeños

thinly sliced

¼

cup

hoisin

¼

Sriracha sauce
Instructions
Place the meat in the freezer, this will make the meat easier to slice thinly.

Drop the yellow onion and ginger along with the star anise, cinnamon, coriander, fennel seeds, and cloves into a 4-quart pot and then pour the broth over the vegetables and spices. Add the fish sauce and bring it all to a simmer over medium-high heat.

While the broth simmers, set the rice noodles in a deep mixing bowl and cover them with boiling water. Leave them in the hot water until tender but not mushy, about 10 minutes. When tender, drain them in a colander.

While the rice noodles soak in the hot water and the broth simmers, arrange the green onions on a serving platter. Separate the leaves of cilantro, Thai basil, and mint from their stems. Arrange the herbs and bean sprouts, as well as the limes and jalapeños, on the serving platter alongside the green onions.

Take the meat from the freezer, and then slice it against the grain into wafer-thin pieces. Arrange the sliced meat in a small bowl. Spoon the hoisin sauce and Sriracha sauce into separate bowls.

Arrange about one-quarter of the noodles into a nest in each of four individual bowls and then strain about 1 1⁄2 cups broth over the noodles into each bowl, taking care that no spices from the simmering broth make their way into the bowls.

Serve the bowls of steaming-hot noodle soup. Encourage everyone at the table to add herbs, peppers, meat, and hoisin sauce, individualizing the seasonings and additions in their bowl as it suits them.
Rate this recipe!
If you loved this recipe, give it a rating. Let us know what works, what didn't and whether you made any adjustments that can help other cooks.