Marrow bean soup is fragrant with a simple broth, fresh herbs and root vegetables. Celeriac and potatoes give the soup a bright flavor, and lovely texture.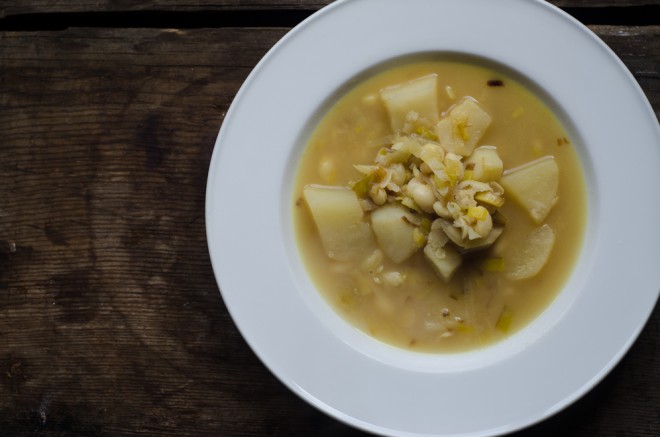 Why We Soak Our Beans
I begin each of my bean and lentil soups the same way. First, I pick over the lentils and rinse them well to remove stray clumps of dirt and little stones that disguise themselves as beans. I dump the beans into a big bowl, and cover them with hot water to allow them to soak and soften at least overnight and up to a day.
Soaking beans in the old-fashioned recipe results in two improvements: one culinary, and the other nutritional. Soaking beans softens them, allowing them cook more quickly, more evenly and with tender results. Soaking beans also improves the bioavailability of trace minerals such as iron, magnesium, phosphorus, zinc contained in beans.
Keeping the soaking water warm to hot helps to ensure that antinutrients that otherwise bind up these micronutrients, making them difficult to fully absorb, are deactivated. Beans are also an excellent source of folate, a B vitamin that is critical for women of reproductive age for its ability to support reproductive health and in the prevention of neural tube defects.
The Beauty of Broth
Bone broth is a cornerstone of our diet, and of my family's daily meals.  Its flavor soothes, while it also helps to support systemic wellness. Broth is rich in both trace minerals, and in gelatin - which helps to support digestive system health and skin health.
Finding Marrow Beans
Marrow beans are plump white beans about the size of your pinky fingernail. An heirloom bean, they can be difficult to find in many grocery stores, but they're creamy texture and unique flavor that tastes lightly of bacon, and despite their rarity, they're worth finding. I order my marrow beans online, about 10 pounds at a time and keep them in the pantry.