Redolent with the sweet perfume of ginger, cinnamon, and cloves, this harvest cake is perfect for fall.  Spread its delicate, spiced layers with lofty, light maple frosting and set it out for a fall dinner party or potluck.  It pairs beautifully with mugs of dark coffee, mulled wine, wassail, or sweet spiced cider.
Why Maple Sugar Works Well for Harvest Cake
Maple sugar, sweet with hints of caramel and toffee, works particularly well for baking.  It's in harvest cakes like this one, that maple sugar not only provides sweetness but deep complex flavors, too.  Touched by warming woodsy notes and the slightest hint of bitter coffee, maple tastes of autumn.  When you bake with maple sugar, you infuse your cakes with that same rich complexity of flavor.  And it marries beautifully with winter squash, apples and pears while amplifying the robust spice of ginger, cinnamon, and cloves.
Where there is flavor, there's also nutrition.  Rich and pronounced flavor indicate the presence of micronutrients.  In addition to various antioxidants, maple also contains fair amounts of manganese and riboflavin and small amounts of calcium, zinc, and potassium. Maple sugar is a great alternative to refined white cane sugar which offers only single note sweetness, without complexity or much nutrition.
When you bake, you must carefully balance the hydration of your batter.  Too much liquid and the harvest cake won't rise well, leaving you with a spongy wet mess.  Too little liquid and the crumb is tough and dry, not tender.  Maple sugar works well for baking because you can substitute it easily for white sugar, without making adjustments to the other liquid portions of your batter, like eggs or milk.
In this harvest cake, milk kefir, and eggs already enrich the batter while shredded butternut squash, apples, and pears infuse it with even more moisture, making dry maple sugar an ideal sweetener. In adjusting your own recipes, keep in mind that maple sugar is slightly sweeter than white sugar, so use less; substituting only a half or three-quarters cup maple sugar for one cup white sugar.
Making Maple Frosting
This harvest cake, rich with ginger and cinnamon, wanted for a sweet frosting to soften its spice. A heavy buttercream or cream cheese frosting would only weigh down a robust, and richly moist cake like this one, so I pair it with a maple-infused Swiss meringue buttercream frosting. One that's flavor-forward, but light and ethereally delicate, too.
Egg whites, rich in protein, form the base of Swiss meringue buttercream, and when blended with butter, they form an airy, mousse-like frosting. The version below is rich with maple and infused by the lightest touch of fragrant dark rum. You start by whipping egg whites and maple sugar together in a double boiler until they froth and foam, then beat them to stiff peaks and a fine gloss before beating in softened butter. In the end you have a maple frosting that is at once impossibly light in texture but boldly rich in flavor.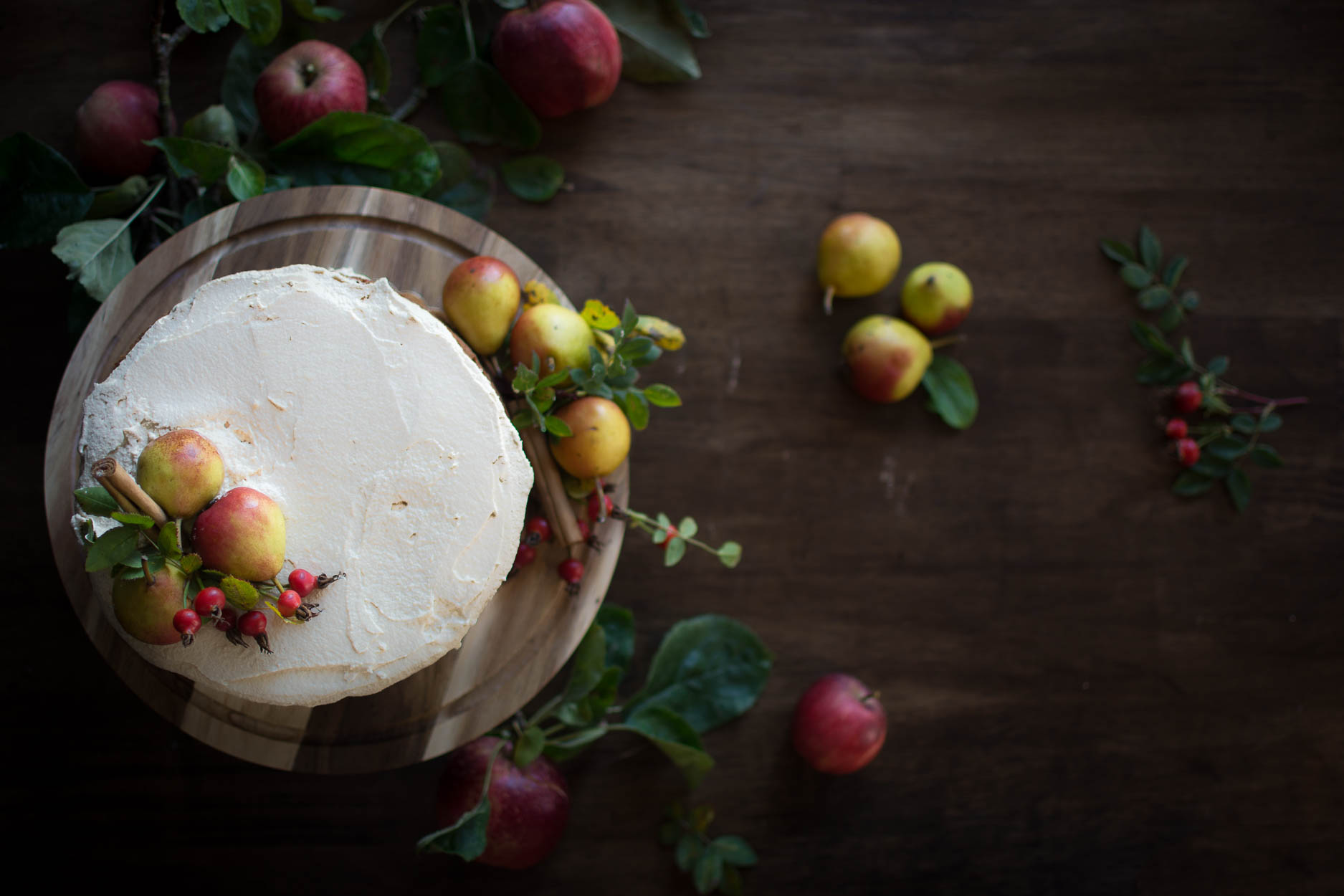 Harvest Cake with Maple Frosting
Spiced with ginger, cinnamon, nutmeg and cloves, this Autumn-inspired Harvest Cake is gently sweet and rich with butternut squash, apples and pears. Light and fluffy Maple Frosting, spiked with the lightest touch of dark rum, finishes the cake.
Servings:
12
servings or One 3-Layer Cake
Print
Save Recipe
Saved!
Instructions
Heat the oven to 350 F, and line three 8-inch baking tins with parchment paper. Grease and flour the tins.

In a medium bowl, whisk the flour, cinnamon, ginger, nutmeg, cloves, baking powder, baking soda and sea salt together.

In a separate bowl, beat the eggs, maple sugar and 2 tablespoons dark rum together until thickened and fluffy, 3 to 5 minutes. Continue beating the eggs and sugar together while drizzling the oil into the bowl in a thin, steady stream.

Add one-third of the dry ingredients into the bowl, stirring until they're fully absorbed into the egg mixture. Then stir in half the kefir. Add another one-third of the dry ingredients to the bowl, stirring until fully incorporated, and then stir in the remaining kefir. Stir the remaining flour mixture into the bowl, and make sure it's fully incorporated into the batter. Fold the butternut squash, apple, pears and pecans into the batter.

Distribute the batter evenly among the prepared cake tins, and bake for 30 to 35 minutes, or until a toothpick inserted into the center of the cake comes out clean. Allow the cakes to cool for five minutes in the pan, and then turn them out onto a wire rack to cool completely.
While the cakes cool, prepare the Maple Sugar Frosting.
In a double boiler, whisk the egg whites, maple sugar and salt together constantly until the sugar fully dissolves. Transfer the egg white mixture to the basin of stand mixer fitted with a balloon whisk. Whip the sweetened egg whites they form a glossy meringue and hold stiff peaks. Test the bottom of the mixing bowl, and when it has cooled to room temperature, whisk in the softened butter 1 tablespoon at a time at medium-low speed until the butter is fully incorporated. Whisk in the dark rum, and continue whisking until the frosting is smooth, light and glossy.

Frost the cakes when they are completely cooled, and serve them at room temperature.
Notes
Variations. You can substitute regular all-purpose flour or sprouted whole grain flour for the einkorn flour.