Resonantly fragrant with aromatic spices like ginger, black pepper, cardamom and coriander, this Garam Masala Chicken Curry is a cinch to make. It reheats like a champ. And you can even make it ahead and warm it up right before you plan to serve dinner.
Jump to Recipe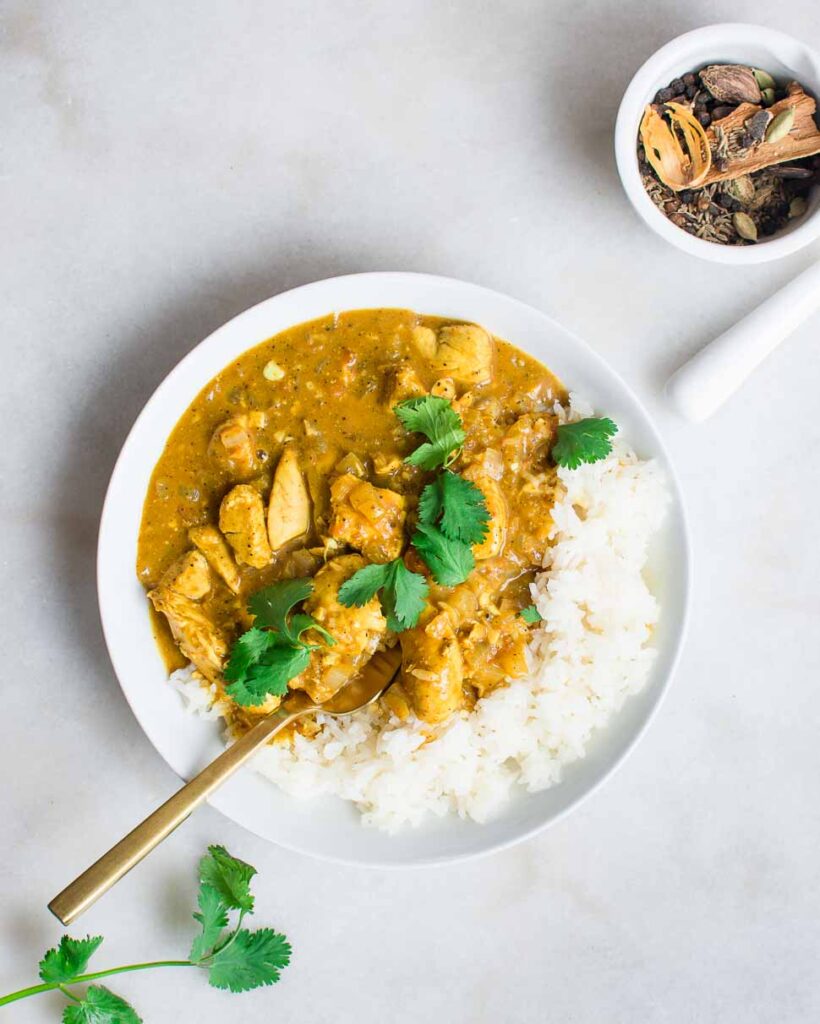 Rich with coconut milk and aromatic, warming spices, this chicken curry is both simple to make and deeply flavorful. Fresh ginger and garlic, sautéed in ghee with sweet onions, form the curry's base while turmeric and garam masala give it a punch of deep, sweet spice. And there's just the faintest hint of cayenne pepper for a little heat.
What spices are in Garam Masala?
The success of this curry depends heavily on its spices. Garam masala is a deeply aromatic spice mix from India. It features various Ayurvedic warming spices thought to warm the body and support digestive fire.
While precise formulations vary from one household to the next, most recipes contain some combination of various warming spices like cumin, peppercorns, and cinnamon.
Cumin has an earthy flavor and helps to support digestion.
Black Pepper helps to support digestion and gives the curry a hint of heat.
Black and Green Cardamom give the curry a fragrant, uplifting flavor.
Nigella or Black Seed is a spice with an earthy flavor with peppery undertones.
Cinnamon has a sweet, spicy aroma and helps support blood sugar balance.
Cloves are sweet and spicy, and also good in mulled wine.
Ginger has sweet heat and helps soothe the stomach.
Mace comes from nutmeg and has a bright, peppery note.
Where to Find Organic Garam Masala
When making this Garam Masala Chicken Curry recipe, we used the Organic Exotic Garam Masala Curry from our longtime partner, Pure Indian Foods.
Preparing Your Spices
The more diverse your spice mix, the richer your curry's flavor will be.
The moment you grind your spices, they begin to lose their flavor. So while you can use any garam masala in this recipe, I'd recommend buying or making a mix with whole spices. Then toast and grind the spices fresh right before you make the curry.
How to Make Garam Masala Chicken Curry
After preparing your garam masala, you'll want to warm some ghee in a Dutch oven, and then toss in your chicken. Cook the chicken until it just turns opaque, and then stir in the onions. Cook them both together in the hot fat, and then toss in your spices.
Once the chicken is coated with spices, stir in some diced tomatoes and a can of coconut milk. Simmer it all together until the chicken becomes tender and the sauce is thick enough to coat the back of a spoon.
Serve the curry over fragrant jasmine rice. And then top it with a sprinkle of chopped fresh cilantro for brightness.
---
Love this recipe? There's more.
Join Nourished Kitchen's Cooking Club for ad-free browsing, nourishing monthly meal plans, and access to all our premium downloads.
---
Try these easy dinner recipes next:
---