Nourished Kitchen Insiders is a free community of home cooks who are dedicated to cooking delicious, wholesome meals. You'll get recipes, tips, and exclusive discounts delivered to your inbox twice a week in addition to premium content.
Bookmark all your favorite Nourished Kitchen recipes and articles in one spot. Love a recipe but not sure when you'll have time to make it? Just bookmark it for easy access later.
Unlock exclusive content that includes recipes only available to members. Our fermented vegetable recipes are only available to insiders. Now you'll have easy access.
Download our monthly menu plan with 4 full dinner menus, recipes, and seasonal produce guide.
---
Thanksgiving
Our August Dinners includes 4 menu ideas and 15 recipes, a seasonal shopping guide, and tips on cooking nutrient-dense whole foods.

And it's completely free for the Nourished Kitchen community.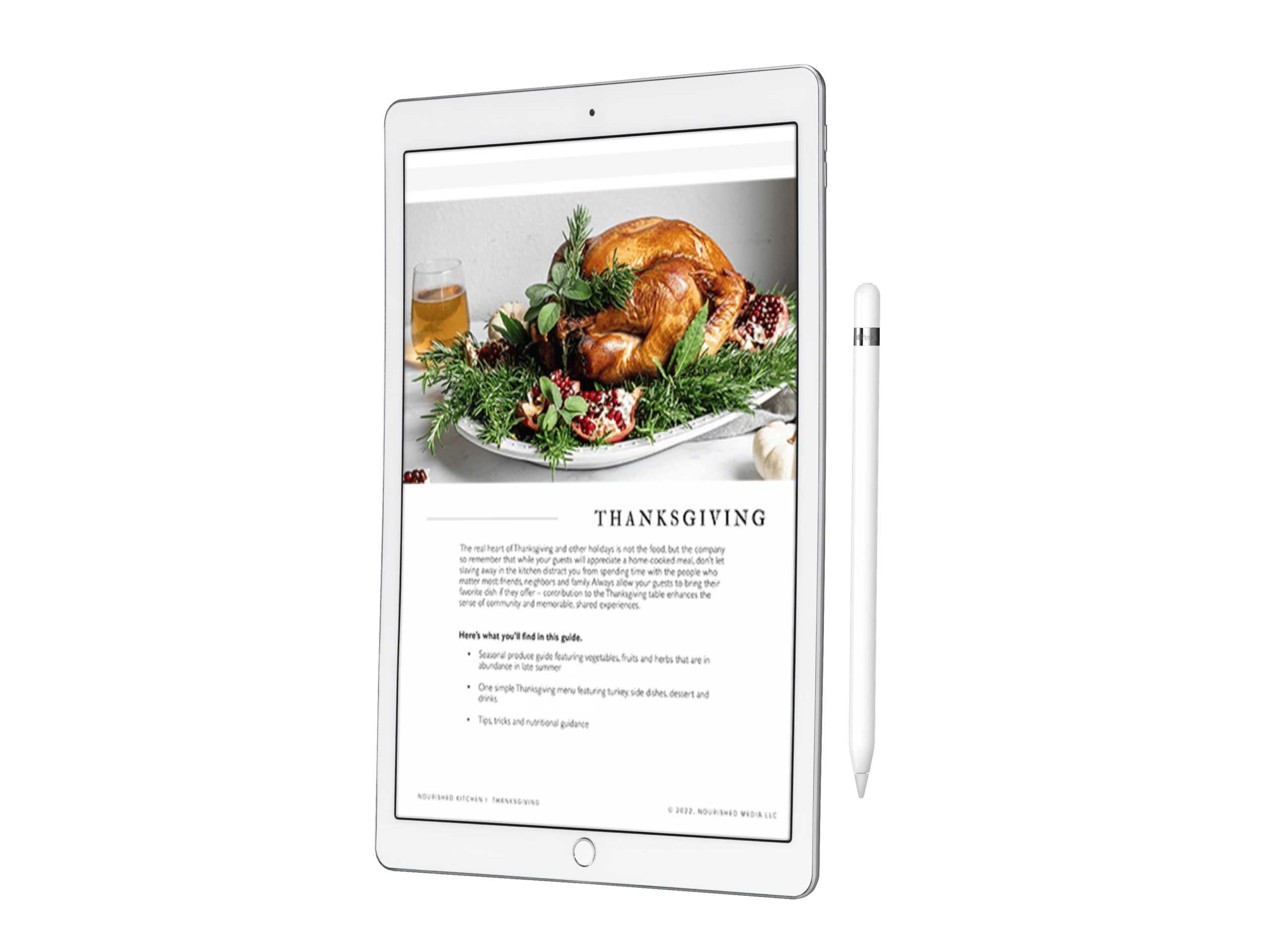 ---
What's in this month's download?
Seasonal Produce Guide for November + Celery and Apple Salad
+ Maple-Brined Turkey + Turkey Gravy + Herbed Mashed Potatoes + Green Beans with Bacon + Maple-Glazed Root Vegetables + Cranberry Compote + Brandied Apples and Cranberries + Maple Brandy Cream + Mulled Apple Cider
Common Questions
What is it?
Nourished Kitchen's community on Grow is a free resource that allows you to unlock exclusive content and bookmark your favorite recipes and articles on Nourished Kitchen as well as many other sites.
How much does it cost?
The community is free, and it gives you access to exclusive content such as locked recipes and monthly meal plans.
How do I sign up?
Sign up by clicking the "unlock" feature above.
How do I login?
As long as you're using the same browser and have cookies enabled, you should stay logged in. If you have signed up and logged out by mistake you can login here or by clicking the signup/unlock button on any exclusive content.
I'm having trouble signing up or logging in. What do I do?
Make sure you're not using a private/incognito mode on your browser, and keep cookies enabled. Support requests will not be managed by Nourished Kitchen, so if you continue to have problems contact [email protected].