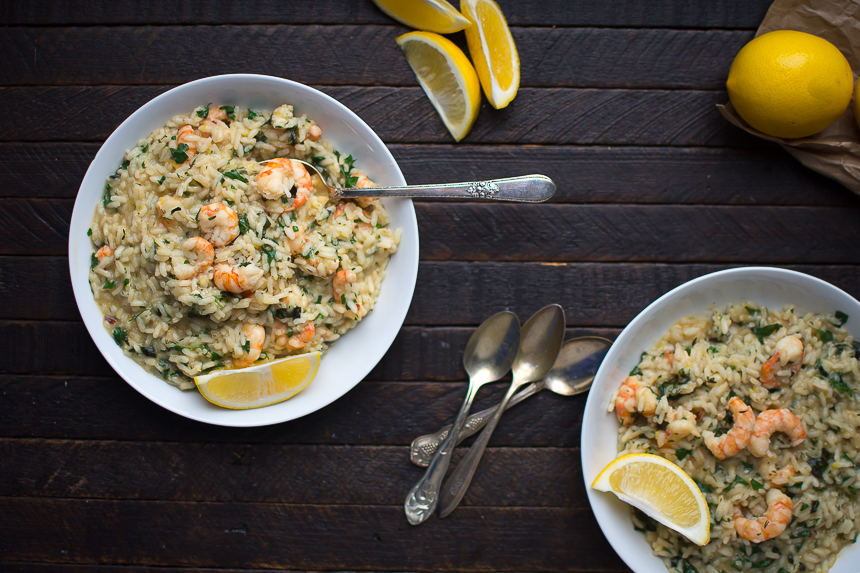 We all have our trusty go-to recipes for when we're hurried, or busy. Those stalwart, dependable favorites that never let you down. They're easy, unfailing, and infinitely flexible so that you can whip it up with whatever you have on hand.
Risotto is mine. While it has a reputation for being fussy and complicated; really, it's neither. It's simply rice, broth and butter, stirred continuously until creamy and cooked through. You can toss whatever you have on hand into the rice to make a meal: sliced mushrooms, leftover chopped ham, butternut squash, stray herbs from your crisper drawer.
One of my favorite ways to make risotto is with Pacific Spot Prawns, loads of garlic, fresh herbs and a splash of lemon. It's bright and vibrant with the floral notes of thyme and basil and the punch of citrus added just at the end.
Pacific Spot Prawns
I use Pacific Spot Prawns, a gorgeous coral-colored spotted crustacean noted for a sweet, creamy flavor similar to lobster.  They pair beautifully with bright, and assertive flavors like lemon, herbs, and hot peppers.
They're native to the clean waters of the Southeastern Alaska, Washington and British Columbia. For some time, almost all spot prawns were shipped to markets in Japan, where they're prized for their flavor, but now they're increasingly available in the states.
They're also a sustainable and ethical choice in an area where few sustainable choices exist.  You see, there's a problem with shrimp.