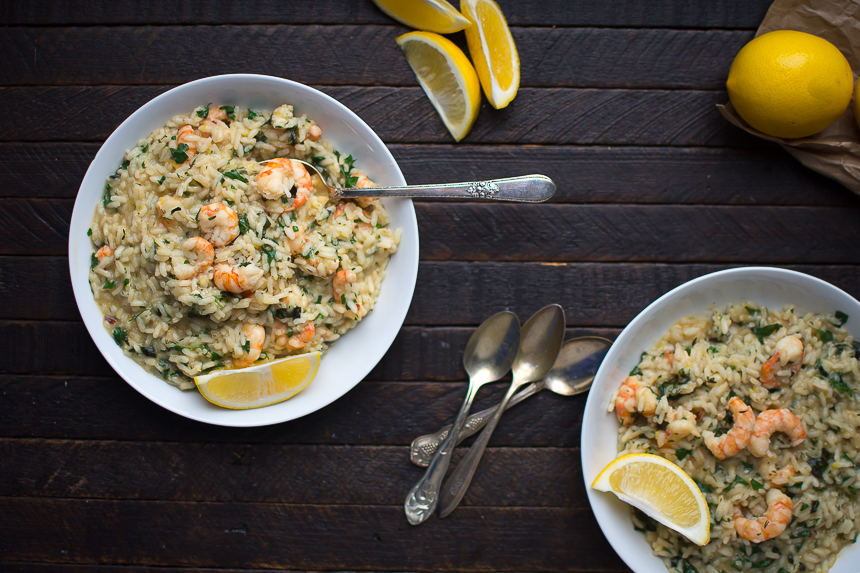 We all have our trusty go-to recipes for when we're hurried, or busy.  Those stalwart, dependable favorites that never let you down.  They're easy, unfailing, and infinitely flexible so that you can whip it up with whatever you have on hand.
Risotto is mine.   While it has a reputation for being fussy and complicated; really, it's neither.  It's simply rice, broth and butter, stirred continuously until creamy and cooked through.  You can toss whatever you have on hand into the rice to make a meal: sliced mushrooms, leftover chopped ham, butternut squash, stray herbs from your crisper drawer.
One of my favorite ways to make risotto is with Pacific Spot Prawns, loads of garlic, fresh herbs and a splash of lemon.  It's bright and vibrant with the floral notes of thyme and basil and the punch of citrus added just at the end.
Pacific Spot Prawns
I use Pacific Spot Prawns (find them here), a gorgeous coral-colored spotted crustacean noted for a sweet, creamy flavor similar to lobster.  They pair beautifully with bright, and assertive flavors like lemon, herbs, and hot peppers.
They're native to the clean waters of the Southeastern Alaska, Washington and British Columbia.  For some time, almost all spot prawns were shipped to markets in Japan, where they're prized for their flavor, but now they're increasingly available in the states.
They're also a sustainable and ethical choice in an area where few sustainable choices exist.  You see, there's a problem with shrimp.
The Problem with (Most) Shrimp
There's a big appetite for shrimp in the US, and where there's a big demand, it will always be met by the cheapest means possible.
A good many of the shrimp imported to and sold in the US, and worldwide, come from Southeast Asia where once-wild mangroves have been destroyed to make way for shrimp farming (read it here  and here).
Ecological destruction is compounded by human trafficking and slave labor (read it here  and here).  Workers, including children, are kept in bondage, physically assaulted and their lives threatened, to meet the demand for cheap eats.
Outside of the ethical concerns surrounding farmed shrimp coming from Southeast Asia, is concern over the manner in which wild shrimp is caught.  Trawling, the practice by which huge shrimp nets scrape their way through the ocean catching anything in their midst.  This bycatch, fish that happened to get caught while trawlers targeted shrimp, is wasted and, in most fisheries, nearly all of it is discarded (read it here).
Pacific Spot Prawns: A Sustainable, Ethical Choice
Pacific Spot Prawns, by contrast, are sustainably wild-caught in clean waters using traps that minimize bycatch.  Moreover, they're often caught by salmon fishermen as a side business - an extra way to make ends meet.
You can buy Pacific spot prawns directly from Alaska Gold Brand, a fishermen's cooperative, here. Use coupon code AlaskaGoldSpotPrawns to save 15% off spot prawns when you purchase their wild-caught salmon.
Garlic Spot Prawns over Lemon Herb Risotto
Fragrant with the bright green notes of fresh herbs and vibrant Meyer lemon, this risotto is deceptively simple to prepare for an easy one-pot supper. Sustainably wild-caught Pacific spot prawns provide a punch of color.
Print
Save Recipe
Saved!
Ingredients
5

cups

bone broth

1

cup

white wine

6

tablespoons

butter

divided

2

tablespoons

extra virgin olive oil

6

cloves

garlic

¼

teaspoon

crushed red pepper flakes

1

pound

Pacific Spot Prawns

find them here, shelled

1 ½

cups

carnaroli rice

1

Meyer lemon

¼

cup

chopped fresh flat-leaf parsley

2

tablespoons

chopped fresh basil

1

tablespoon

chopped fresh thyme leaves

1

tablespoon

chopped fresh dill fronds
Instructions
Warm the broth and wine in a saucepan over medium-low heat.

Melt 2 tablespoons butter and 2 tablespoons olive oil in a braising dish (

like this one

) over medium heat. Stir in the garlic, crushed red pepper and saute them until fragrant, about 3 minutes. Stir in ½ cup broth, and toss in the spot shrimp, cooking until pink, curled and cooked through, about 2 more minutes. Transfer the shrimp to a plate, and then return any cooking liquid back to the simmering broth.

Add the remaining 4 tablespoons butter to the braising dish. When the butter melts, stir in the rice and saute it in the butter until the tips of the kernels of rice turn translucent, about 3 minutes. Pour the broth into the rice one cup at a time, stirring continuously until fully absorbed.

Grate the lemon peel finely, and stir it into the rice. Then juice the lemon, and stir that into the rice. Stir the herbs into the rice, and then return the shrimp to the pan cooking until warmed through. Serve warm.