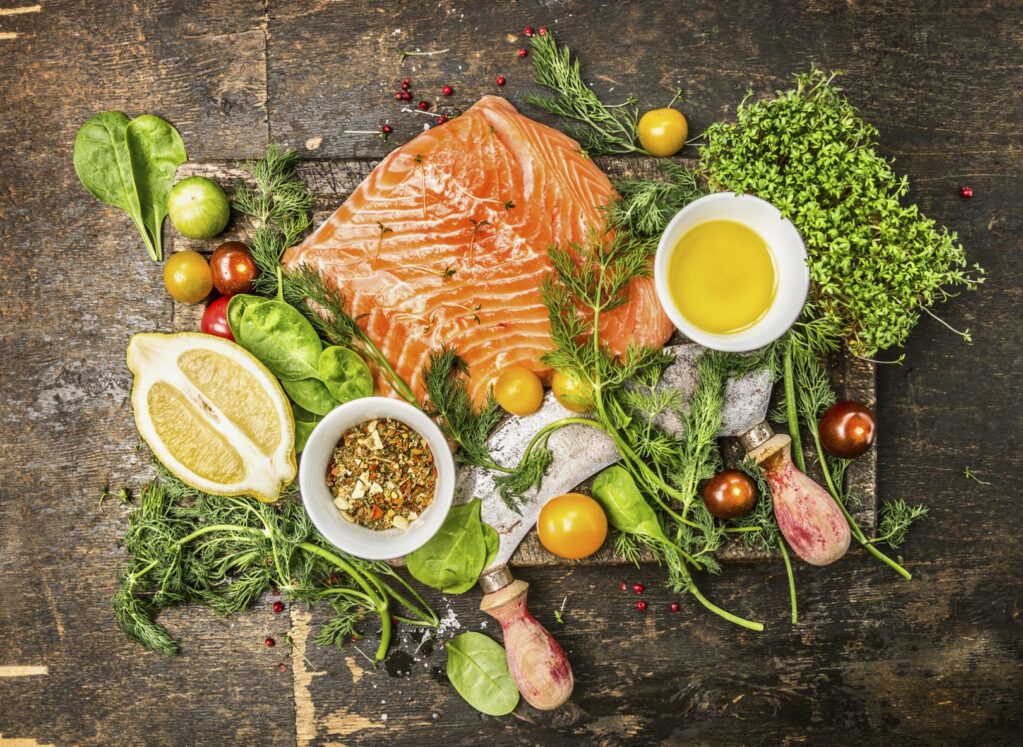 In the heat of summer, it's easy to want to spend your days outside, soaking up the sun at the lake or in the garden, but protection from overexposure is a must.  Here's something that might surprise you: sun protection isn't just about exposure, sun screen and covering up; rather, the foods you eat can provide sun protection, too.
While eating your sunscreen may not sound like the most appetizing idea (don't down that bottle of Coppertone just yet) it's true that certain foods and eating styles can actually increase your sun tolerance.
This doesn't mean you can stay outside in the hot summer sun for hours on end without burning (definitely don't do that!) but certain diets, particularly those rich in healthy fats and antioxidants, can increase sun tolerance (source) while other diets can decrease sun tolerance and make us more susceptible to burning earlier and more severely.
Perhaps unsurprisingly, especially for those familiar with eating the Nourished Kitchen way, a diet that largely mimics our ancestors - that means plenty of wholesome fats (including saturated fats) and loads of antioxidant-rich fruits and vegetables -  is key for increased sun tolerance, keeping sunburns at bay for longer, and lessening their severity in many people.
Foods for Sun Protection
While your first choice in sun protection should be moderation in exposure, and covering up to avoid overexposure, diets rich in healthy fats, and antioxidants like lycopene and astaxanthin act as an oral sunscreen.  Conversely, a diet full of sugar, industrial vegetable oils and lacking in antioxidants (source) and micronutrients (ahem, sound a bit like the Standard American Diet?) is the culprit in decreasing our sun tolerance, leading to quicker and more severe burns that can pave the way to skin cancer.
Because sunburn is an inflammatory process, it makes sense that adding an inflammatory diet on top of this would increase our chance of burning, while eliminating underlying inflammation, with a traditional, real food diet supports healthy sun exposure.
Lycopene-Rich Fruits and Vegetables Protect from the Sun
In addition to preparing wholesome real food recipes, focusing on including more of the lycopene-rich foods in your diet is an easy way to start eating for sun tolerance (source).  Lycopene is a bright red carotenoid pigment that colors tomatoes, guavas, rosehips and many other vivid, red fruits.
Fresh tropical fruits (like papaya and guava), a pink or red grapefruit half or slices of watermelon are a summer favorite, as are sun-warmed tomatoes right from the garden vine or farmers market.
For Lycopene, Cooked is Better than Raw
Remember that cooking the tomato increases lycopene content, as cooking breaks down the cell wall and allows more lycopene to become available. So adding canned tomatoes to your meals in the form of chile, soups or sauces can go a long way to increasing your lycopene intake.
If you don't can your own tomatoes at home, be sure to purchase tomatoes canned in glass jars (like these) to avoid exposure to endocrine-disrupting chemicals found in the linings of many canned goods.
Tomato paste is a fabulous source of lycopene and is a particularly beneficial food when it comes to sun protection. Researchers have found that tomato paste, in particular, is protective against sunburn (source). While often found in heartier foods like spaghetti sauce, chili or stews, homemade ketchup is a great option for warmer weather, is kid-friendly and packs the extra benefit of probiotics when cultured.
Add a Little Fat to Your Fruits and Vegetables
Lycopene is also better absorbed with the addition of healthy fats (source). So make sure to partner those red-ripe heirloom tomatoes with olive oil in Tomatoes Provençale, or serve fresh watermelon in the morning alongside fried eggs or a bowlful of full-fat homemade yogurt.
Eat Plenty of Wild-Caught Seafood for Astaxanthin
Wild-caught salmon and shrimp are particularly rich in astaxanthin, a potent antioxidant that protects against the skin against damage (source).  Just as tomato paste acts as a sort of sunscreen you can eat, astaxanthin also acts as an oral sun-protectant (source).
You can purchase astaxanthin supplements online, but eating plenty of wild-caught salmon and wild-caught shrimp from clean waters is not only more enjoyable than a handful of supplements, but also come with their own host of complementary nutrients like vitamin D, iodine and other micronutrients.  Or purchase wild-caught salmon direct from the fishermen here, and wild shrimp caught in clean waters here.
Emphasize These Foods for Sun Protection
So eating your sunscreen can be as simple as enhancing your already healthy real food diet, and once again points to the benefits of decreasing overall inflammation in the body by avoiding processed and industrial foods, high amounts of sugar and unhealthy vegetable oils.
Enjoy eating a largely anti-inflammatory, real food diet.

Eat foods that are high in natural vitamins, minerals and antioxidants with emphasis on lycopene.

Enjoy plenty of astaxanthin-rich wild-caught salmon and shellfish.

Eat plenty of  natural fats like coconut oil, pure olive oil and properly sourced animal fats, especially those rich in omega-3 fatty acids like fish and cod liver oil.