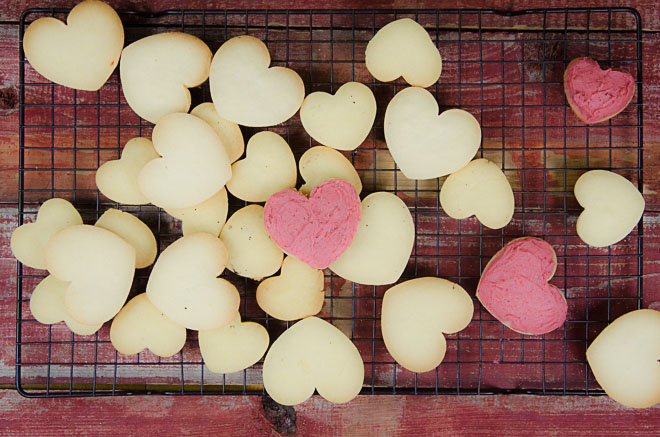 As many of you who have read Nourished Kitchen for a long time already know, Valentine's Day is something special in our home.  We don't go in for bouquets of flowers (though I like them), or cards, or teddy bears, but I do always try to make a little, special sweet treat for the loves in my life: my husband and son.  It might be Mayan Chocolate Truffles or Simple Chocolate Custard, or theses heart-shaped Einkorn Cookies with Strawberry Buttercream that are destined for my little boy's Valentine's Day Potluck at school.  I'll also tuck some Hibiscus Ginger Water Kefir into his bag to share, too.  (And don't worry, the recipe for that is coming soon, and if you're not familiar with water kefir, you should check it out here.)
Call me crazy …
Call me crazy, but I think cooking with love matters – a lot.  When food is grown with care and prepared with love, I like to think that some of that care and love helps to nourish the spirit of the one who receives it.  Yes, and I'm venturing into serious "woo" territory here, but, all the same, I think there's real beauty and nourishment in cooking from the heart.  Consider the comfort of your grandmother's favorite chicken and dumplings, or the love shared in baking chocolate chip cookies with a parent, or making dinner with friends.
Among my son's favorite activities in the kitchen is making cut-out cookies.  Me?  I find them unnecessarily time-consuming with all that rolling, and cutting out and rolling again.  So, we only make them occasionally (sweets aren't terribly big in our home anyway).  Yet, when we went to the kitchen together to begin testing versions of this recipe, we filled that kitchen with laughter and giggles and a whole lot of love.  I'd like to think that love, those giggles make their way through the beating, the baking and the frosting into the bellies of the children that eat them at their party tomorrow, and that these cookies bring them joy and laughter.
Why I use einkorn flour
When I bake, I bake primarily with einkorn – an ancient variety of wheat that is relatively higher in nutrients like beta carotene than modern varieties of wheat offer.  Einkorn is softer, too, much like spelt, and so I find that baking pastries, cookies and light-breads with einkorn flour particularly enjoyable.  For those who maybe sensitive to modern varieties of wheat, you might find that you tolerate einkorn better.  Read more about einkorn and other ancient varieties of wheat here.  And, you can find einkorn here, or in most natural food stores.
Strawberry Buttercream
After trying various buttercreams made with fresh strawberries, I was left wanting – as the fresh strawberries made the buttercream inconsistent in texture, and they fought emulsification. Instead, substituting powder made from freeze-dried organic strawberries (available here), we landed on a delightfully consistent texture, a deep rosy pink color, and a rich strawberry flavor reminiscent of strawberry jam – only creamier.
aa
| | | |
| --- | --- | --- |
| Einkorn Cookies with Strawberry Buttercream | | Print |
Prep time:
Cook time:
Total time:
Serves:
about 30 medium cookies
A special treat for Valentine's Day, these mildly sweet shortbread-like cookies are topped with a jammy Strawberry Buttercream Frosting.
Ingredients
2¼ cups einkorn flour (available here)
½ teaspoon baking powder
½ teaspoon unrefined sea salt
¾ cup softened butter
¾ cup sugar
1 egg
1 teaspoon vanilla extract
½ teaspoon almond extract
Instructions
In a medium bowl, whisk the einkorn flour with baking powder and salt until evenly combined, and then set it aside.
In the basin of a stand mixer, cream the butter and sugar together using the paddle attachment until light and fluffy, and then beat in the egg, vanilla and almond extracts. Working a half cup at a time, beat the dry ingredients into the wet ingredients until you form a smooth and uniform dough.
Spread a piece of parchment or waxed paper on your working surface, and roll the dough to ¼-inch thickness. Cover with another piece of parchment or waxed paper, and transfer to the refrigerator to chill for 1 hour.
Heat the oven to 350 F, and line a baking sheet with parchment paper.
Remove the chilled cookie dough from the oven, and cut out the cookies. Bake about 10 minutes, or until lightly colored at the edges. Transfer them to cool on a wire rack.
While the cookies cool, prepare the buttercream by dumping ½ cup softened butter into the basin of a stand mixer. Beat with the paddle attachment, and add the confectioners sugar ½ cup at a time until thoroughly incorporated into the butter. Beat in the strawberry powder and cream it together with the butter and sugar until the frosting is uniform in color and texture. Beat in the heavy cream.
Frost the cookies once cooled completely.